Commit Club gives your company or clients a tasteful way to issue branded NFTs for customer and follower activations.
This is ideal for organizations with no Web3 presence that want an authentic and engaging way to enter the space.
Non-fungible tokens (NFTs) can be on-brand through aesthetic and art and through the actions required for a participant to receive the NFTs.
Implementation is free and set up can be done in a matter of days. There are no costly minting fees.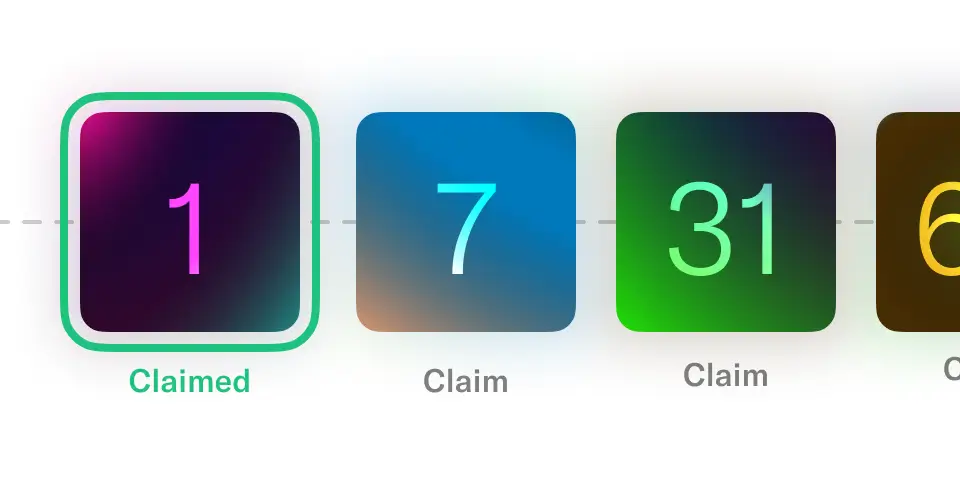 You give us the art you want to use for the NFT, and the challenge you want participants to complete or start in order to receive the NFT.
We then make a branded entry page for participants to go through to start the challenge. Challenges can be done with an email address or Web3 wallet.
The simplest option is to create a challenge that uses the honor system, though we can also work together to build in anti-cheating as measured through a 3rd party application.
When the challenge requirements are met, participants can claim an NFT through email or automatically receive them through an airdrop. The NFT is on the Gnosis Chain which means it requires no minting fees. NFTs can be bridged to the Ethereum Mainnet for any user who wishes to put them on a marketplace.
More complex bespoke activations, including a white-label solution, are available upon request.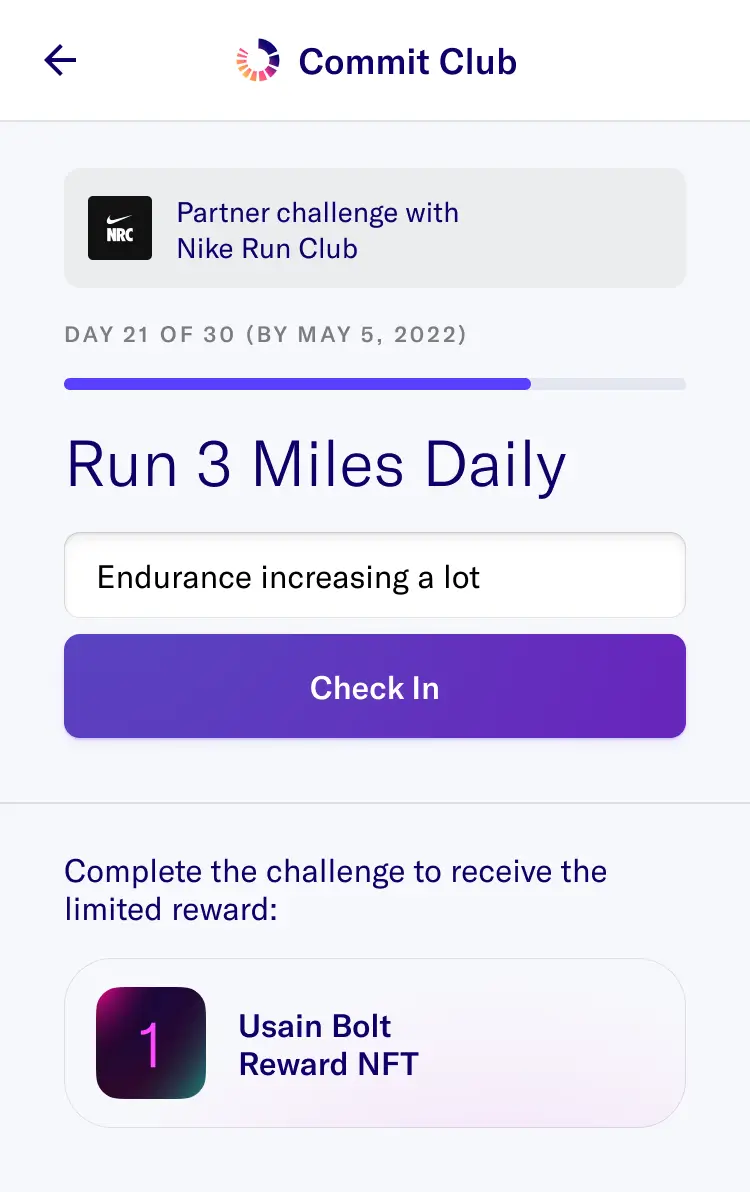 NFTs for on-brand actions
Challenges are a great opportunity to reflect the values of an organization.
The actions a participant has to do to receive the NFT should either be reflective of the brand's mission or interactive with one of its products or services.
A fitness brand, for example, can give followers branded NFT trophies for being physically active through daily running, swimming, or hiking.
A gym can incentivize use of its facilities by giving an NFT to participants who make it in every day.
A mindfulness app can reward users with NFTs for hitting daily streaks.
Measured or with the honor system, oftentimes the act of checking in is enough to create top-of-mind awareness and get a user to do an action more often than not.
A meditation brand can simply give the challenge of meditating daily and reward users who just start.
NFT incentivized challenges work for all types of niches: education, CPG, diet, lifestyle, fashion, music, arts, events… the list goes on.
The way the NFT looks and the story that comes with the aesthetic is another great way to reflect a brand.
Examples include:
The appearance of the NFT depicting brand logos or themes.
The artist who makes the NFT – this could be a sought after artist who reflects a company's values or a local artist reflective of a place.
Event based NFTs to celebrate a holiday or event within the company's history.
Appearance based on the action being done to receive the NFT.
Appearance based on access the NFT gives you.
Your NFT collection can be seen as a piece of art. How you want that art to echo your mission is up to you.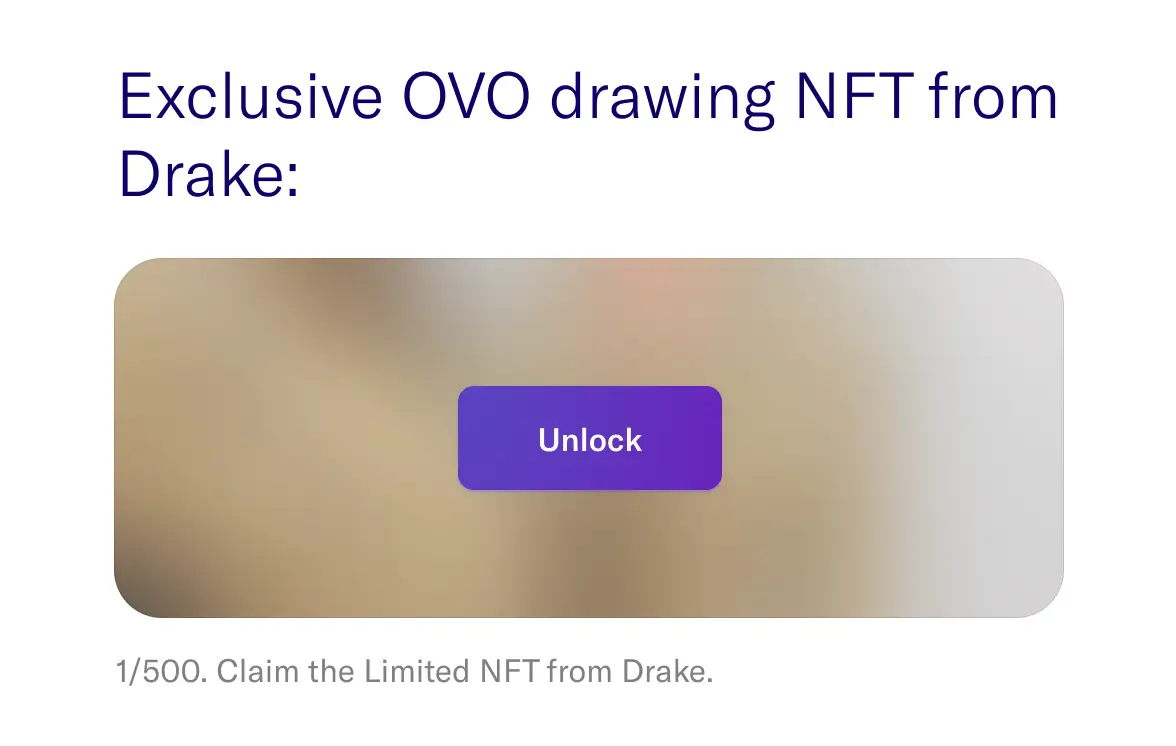 While the most easy-to-implement option for your promotional NFT is to make it a collectible and piece of art, NFTs can carry functionality with them that gives holders exclusive benefits.
Holders of your NFTs can receive discounts on products or services.
NFTs can function as tickets to events.
NFTs can give access to gated digital communities, such as through Discord which has an integration to verify ownership.
Your branded NFTs can go way beyond a piece of art traded on marketplaces such as OpenSea or Rarible and carry actionable benefits for the people who earn them.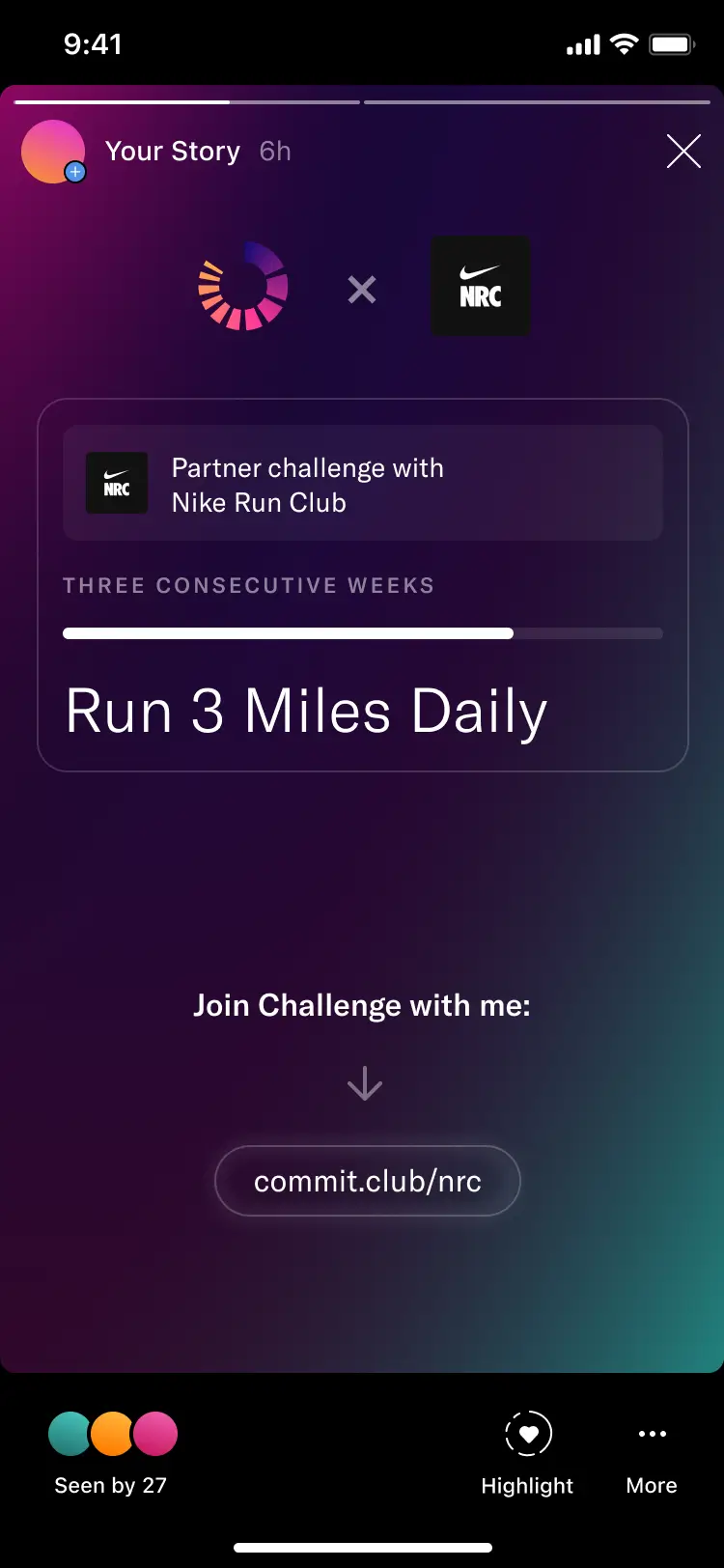 Shareable and viral Web3 challenges
In addition to promoting your brand through NFT incentivized challenges, the challenges themselves are designed to be shareable to engage people with little-to-no awareness of your brand.
Every challenge gets a public share page which updates in real time and there's no sign up required to view the challenge. Viewers can duplicate the same challenge with just a click.
Sharing is made to be easy for the most popular social media platforms in order to maximize viral impact.
Challenge revenue and charity integrations
Challenges can also involve cryptocurrency stakes and rewards. The stakes from failed challenges go to you, to successful participants, and to charities.
A participant starts by creating a challenge with money attached (the stake). Every check in, the participant gets an equal portion of the stake back. If a check in is missed, the remaining stake is split between successful participants and partners.
By default, 70% of failed challenge stakes go to successful participants. The remaining 30% is retained by the platform with an allocation to the partner, to an on-brand charity, or to a mix.
Staking is entirely optional and challenges can be done for free with an email address.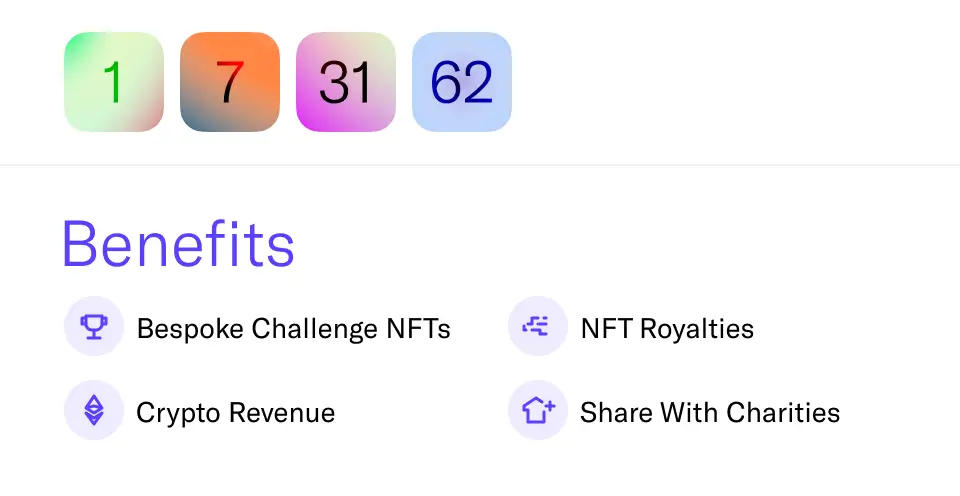 Bring your brand into Web3
Branded NFT activations are free to implement and easy to set up. What are you waiting for?