Accountability Partner Online
Commit Club gives you an accountability partner online so you can be held accountable to your goals by strangers and friends from anywhere in the world.
Accountability partners get updates on your progress and nudge you if you're slacking.
Additionally, you have the option to commit with money. Fail your challenge and your money goes to everybody successful. Complete your challenge and get money from people who fail.
Commit Club is completely free and challenges can be with or without money.
A community for committers
Commit Club is for people who want to get things done and be held accountable.
Use your friends and family as accountability partners or get a stranger to monitor you.
Even if you don't select accountability partners up front, you can always add them later.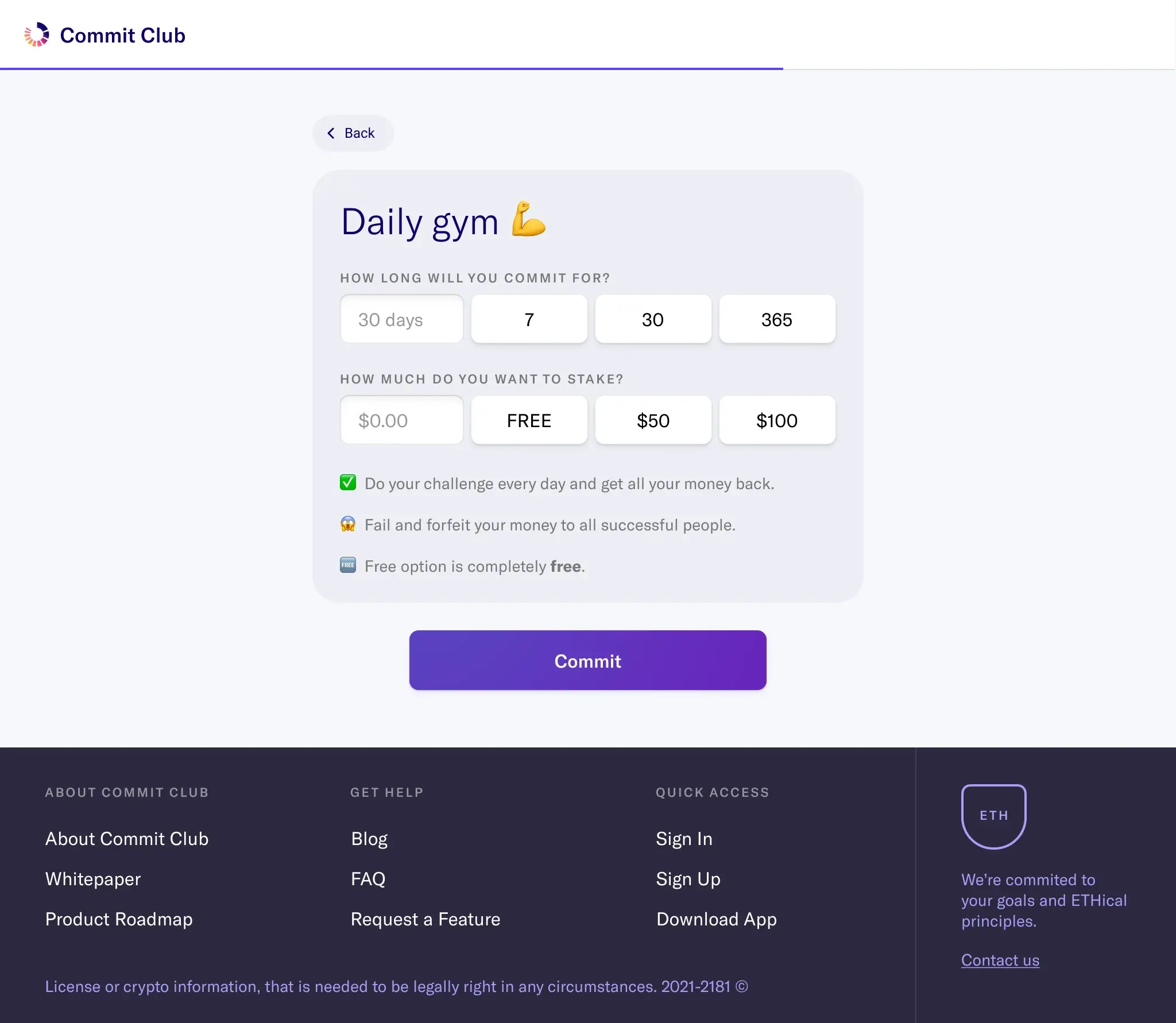 Multiple models of accountability
Free, pledged, private, public – Commit Club offers a variety of ways to stay accountable.
Do a challenge with no money (a free challenge) and stay accountable to yourself. Choose partners to stay accountable to people.
Is the challenge something private? A challenge is not public by default and is only seen by others when you share it or choose partners.
The public challenge page
The public challenge page is what people see when they go to your challenge.
It shows your start and end dates, your progress, and more.
Use the journal to record your progress in detail. Add notes that are meaningful to you and to anybody viewing your challenge. Give shoutouts to your accountability partners for keeping you on track!
Committed with money? Great. Commit Club shows your total pledge, how much you've earned back, and how much you lose if you fail – but you won't, we believe in you!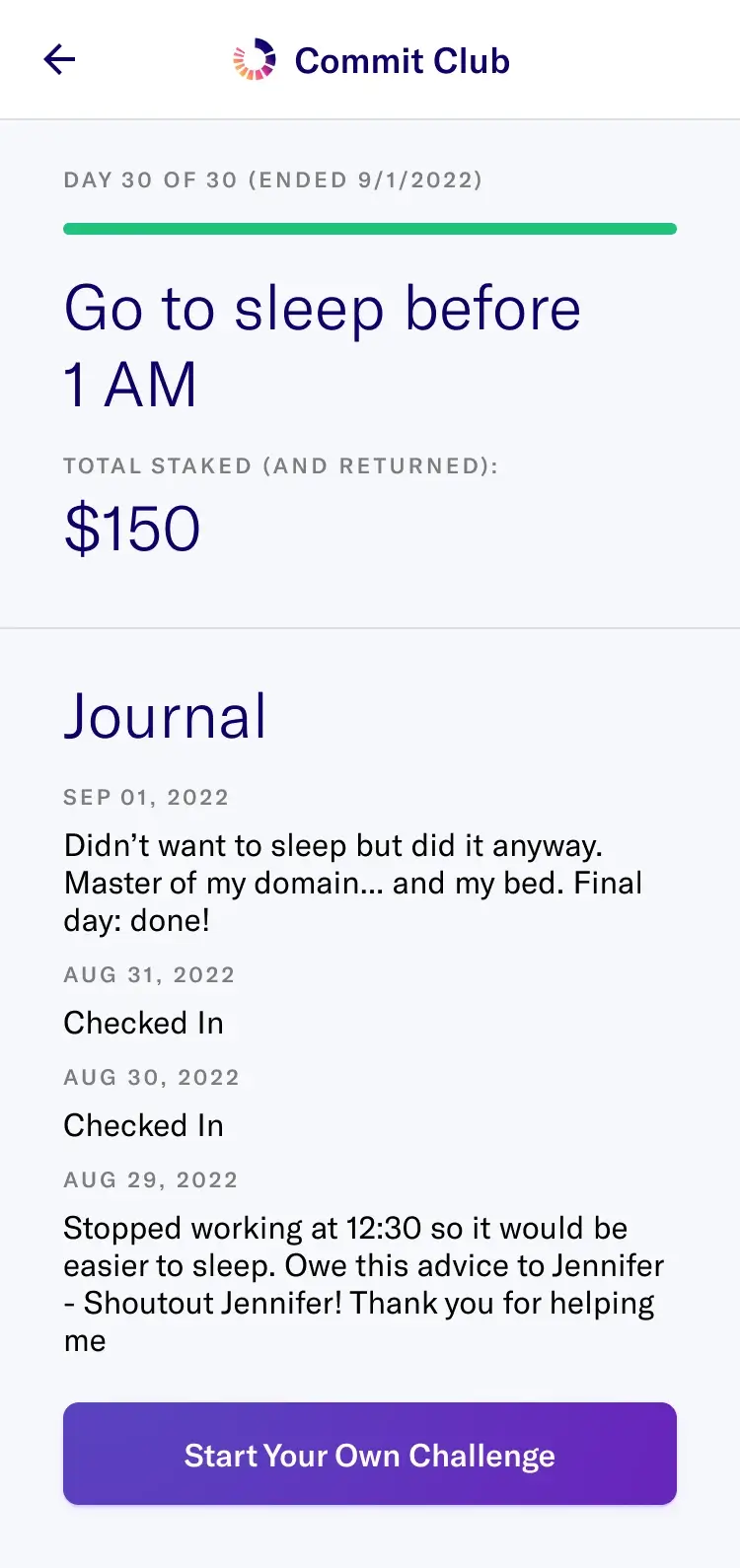 Commit Club is ideal for a variety of challenges:
Wake up early every day. Pick a time and stick to it.
Do a certain exercise daily. Burpees are great.
Meditate daily and become a master at managing stress and anxiety.
Go for a run each day.
Do stretching every day.
Go to the gym every day.
Daily studying to turn you into an expert or just ace your next test.
Cut your sugar intake and commit to having less of it every day – we understand, it's really tasty.
Quit smoking.
Quit any habit you're not proud of and build up habits known to improve life.
This is only a small part of what's possible with Commit Club. Stay accountable and improve your life and the lives of those around you.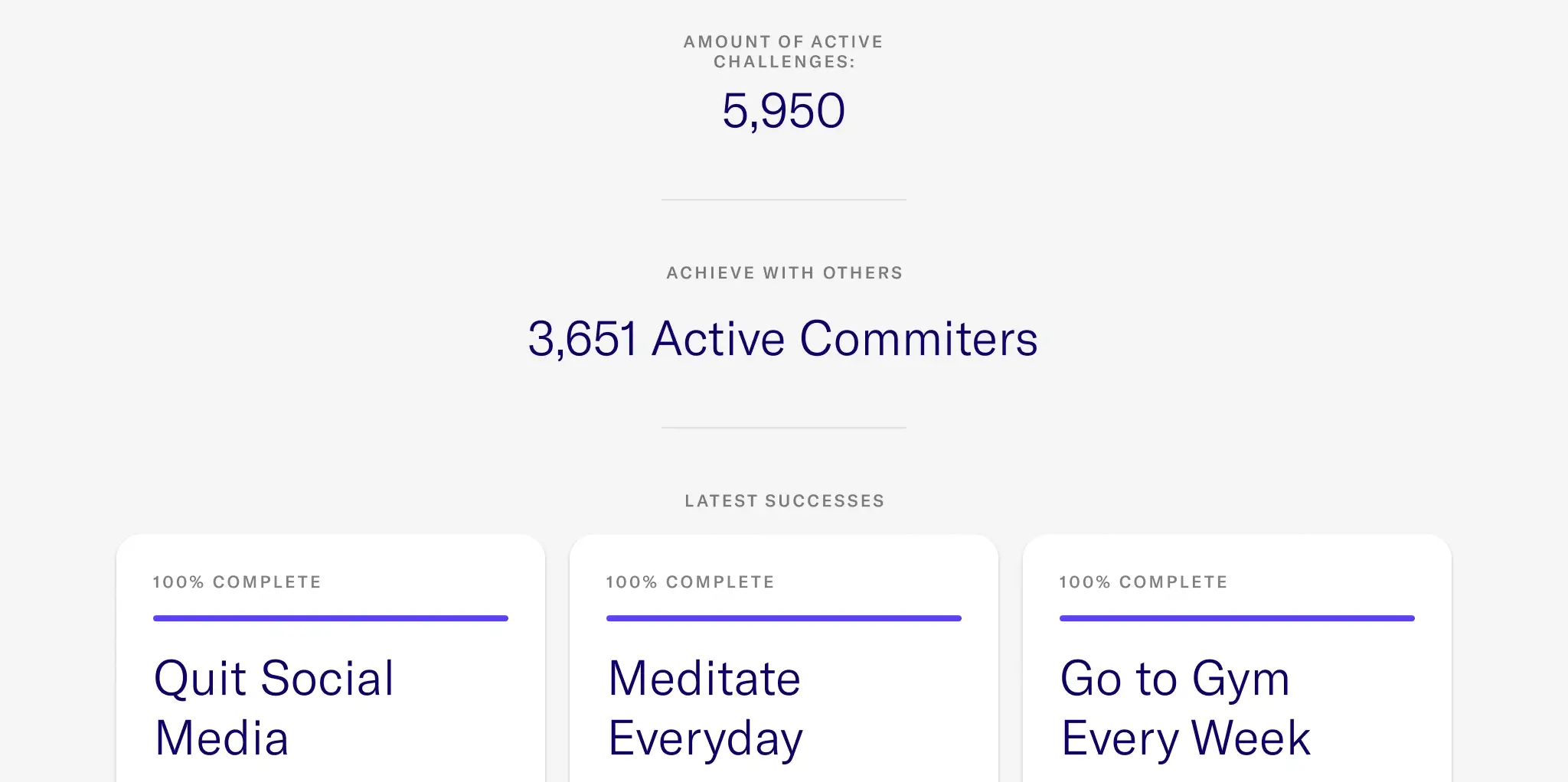 Find bonus motivation in the Community area
Navigate to the Community area to see what your fellow committers are up to.
See latest successful challenges to get inspiration for your next big move.
See how much money people have pledged on themselves total, how much total is in active challenges, how much has been lost in failed challenges, and how many active users there are.
We're committed to building a vibrant community and we want you to be part of it.
Commit Club uses the power of social accountability and loss aversion so you stick to your goals. Are you ready to start something great?